List of the Best Mini Smartphone
The Best Mini Smartphone
Smartphone screens are getting bigger as most users like to have bigger screens for an enriched multimedia experience. With bigger screens, the overall size of the smartphone also increases, making it difficult to operate the phone with one hand. Therefore, the importance of a mini smartphone is still immense because many people still like one-handed use. Small smartphones ensure comfortable operation along with some other benefits. Smartphone brands, like Samsung, Apple, and Google are still making small smartphones keeping in mind that people still like compactness.
Today, we will list some of the best small smartphones available on the market. If you were looking for a small size smartphone, then this guide will help you make a better decision.
Buying the Best Mini Smartphone: Available Options
When we talk about compactness, the Apple brand comes straightaway in our mind for their lineup of mini smartphones. Apple is dominating the mini smartphone market for years with phones like iPhone SE and the 12 Mini. The key advantage of buying mini phones is the huge difference between the price of a mini and a large phone. For example, the smaller versions cost much less than Ultra-, Max-, or Plus-sized variants of the same smartphone. Therefore, mini phones are not only easy to carry but are also budget-friendly smartphones.
Moreover, the latest mini smartphones, such as Pixel 5 and iPhone 12-mini comes with 5G connectivity. So, we can expect more 5G-enabled mini phones in the future. Apart from brands like iPhone and Google, etc., some other brands manufacture mini phones to meet low budget requirements.
Let's take a closer look at some budget-friendly mini phones that everyone can buy easily.
UNIWA M4004 is a 4.0-inch WVGA capacitive touchscreen smartphone that provides exceptional performance at a low cost. It runs on Android 11 OS and has a reliable MTK6580 quad-core processor with 1GB ram. It ensures smooth and reliable performance when browsing the internet or playing games. The smartphone comes with an 8GB built-in storage that you can extend by inserting a TF card. You can use up to 32GB card which offers you enough storage space for games, photographs, videos, and other content.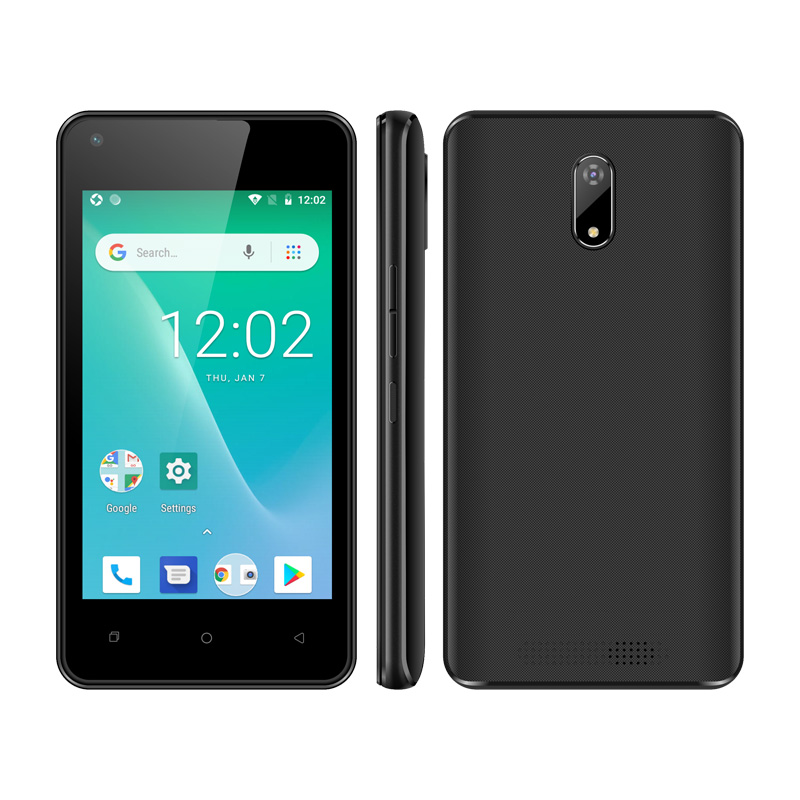 This mini smartphone has an 800x480px resolution with 240dpi, which is quite reasonable for a 4-inches smartphone. UNIWA M4004 has a 1500mah battery with up to 6 hours of talking time and 160 hours standby. It comes with 2G (GSM) and 3G (WCDMA) connectivity support. The dimensions of this model are 124.8 x 64.3 x 10.1mm with 110g weight (including battery). Here are some other notable features of this device.
Dual Micro SIM Cards with Dual Standby
Wi-Fi and GPS Navigation
Android 11 GO
Malu-400 GPU
MT6580 Quad Core 1.3GHz CPU
3.5mm Audio Jack
FM Radio
Proximity Sensor
Acceleration Sensor
The phone comes with a 5.0mp back cam with a flashlight and a 2.0mp front cam. It supports various audio and video formats, such as AVI, MP4, WMV, MP3, M4A, AAC, and more. This low-budget smartphone has all the basic features that you need, such as GPS navigation, cameras, and Wi-Fi, etc. You can install navigation, games, software, and other apps from third-party providers.
Are you looking for a slightly bigger screen size below 6-inches screen size? If yes, then the UNIWA S2000 mini smartphone could be the device to choose from. What makes this model special is the SOS button that you can use to make emergency calls. It runs on the Android 8.0 operating system and might get OS updates soon. There is a dedicated key to turn on the torchlight immediately and conveniently whenever you need it. The charging dock is optional and the smartphone comes with built-in Whatsapp, Twitter, and Facebook support.
UNIWA S2000 offers 2G (GSM), 3G (WCDMA), and 4G (FDD-LTE) band support for faster internet browsing. It has 1GB RAM and 8GB ROM that you can extend with up to 32GB memory card. The Bluetooth version is V4.0 BLE. The battery of this smartphone is quite impressive as the phone comes with a Li-ion 2800mah battery. With this battery capacity, you will have up to 180 hours of standby time. The phone dimensions are 163.4 x 75.5 x 10.5mm and the net weight is 181g.
Here are the other features of the UNIWA S2000 model.
SC9832E Cortex A53 Quad Core 1.4GHz CPU
Mali-T820 MP1@650MHz
5.72-inch FWVGA capacitive touchscreen (240dpi, 960 x 480px resolution)
Wi-Fi/WAP Mobile Internet
SOS Button
Proximity Sensor
Light Sensor
Acceleration Sensor
FM Radio
This mini smartphone has a 2MP front cam and a 2MP back cam with a flashlight. The phone supports multiple languages and is available in blue, grey, and black colors. It is a perfect choice for people who need a low-budget mini phone with the basic features of a smartphone.
Things to Consider When Buying a Mini Smartphone
The mini phones we have discussed above have all the essential features of a smartphone. You can use these phones to stay connected with your friends and family via pre-installed and third-party social media apps. If you need higher specs and features, then you can consider other brands like Apple, Samsung, and Google, etc. There are a few essential things that you need to keep in mind when buying a new mini phone. Before anything else, you must figure out the essential or basic features that you need in the smartphone.
For example, you should choose a phone with a high-end processor and more RAM for faster browsing. In the same way, choose a smartphone with a higher resolution for games and multimedia. If you use the phone for extended hours, then you must opt for a phone with a larger battery. It is also essential to know the connectivity options and choose the appropriate phone accordingly.
Conclusion
Modern-day smartphones are getting bigger in display and overall size with time. Bigger screens are great to watch, but they are expensive too. Moreover, it is also difficult to handle bigger phones with one hand. This is where a mini smartphone becomes handy and the reason why most people like it. If your budget is low and you need a phone with all the basic functions of a smartphone, then opt for a small size smartphone. You can easily find one in the local market or online.
Describe Your Needs In Detail!
We will carefully evaluate your needs and give professional solutions.
Free Inquiry