What Are the Features of a Rugged Tablet for Industrial Use
A Rugged Tablet
The world has become increasingly digital. Every task is now dependent on the machines. From the design aspect to the manufacturing aspect, everything is digital. Computers and tablets are inadvertently required in such circumstances. Tablets and computers are essential components of the industry now. However, regular smartphones are not able to meet industrial needs, therefore, you would need a Rugged Tablet.
Consumer-grade tablets and computers cannot survive in an industrial setup. Industrial use requires tablets and computers that are suitable for rough use.
An industrial-grade tablet ought to be rugged both internally and externally. The rugged tablets are devices that hold military-grade protection certificates. Internally, they have to be rugged enough to run any operating system from the wide range of operating systems available. Externally, these tablets ought to be shock, drop, and temperature resistant.
Usually, rugged tablets are encased in a hard shell to offer an added external protection and ruggedness.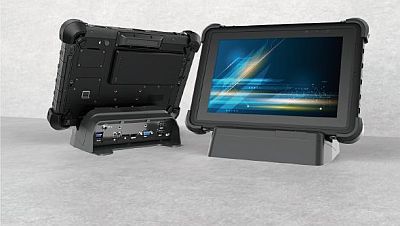 Features of Rugged Tablets for Industrial Use
Rugged tablets are preferred for use in industries. Their use is also advocated by all those who have worked in an industrial setup.
There are certainly desirable features for rugged tablets. These features make rugged tablets fit for use in the unfavorable industrial setup and environment.
1. Ability to withstand extreme temperatures
Industries have a range of extreme temperatures. The steel industry, for example, deals with molten metal and has temperatures of hundred and thousands of Celsius. The food industry on the other hand predominantly deals with extremely cold temperatures.
A rugged tablet that is truly meant for industrial use will work perfectly well in a wide range of temperatures. From an extremely hot to an extremely cold environment, a rugged tablet ought to work despite all odds.
The rugged tablet must also be to survive through dust, mist, snow, and rain. Unless it is not able to withstand this it will not truly be a rugged tablet.
2. Waterproofing
Industries have a plethora of functions that end up generating water. If not water, the mist, and steam arise as the other forms of water. If the rugged tablet is not designed to be waterproof, it will come to a standstill and so will the industrial process.
Waterproofing is the inherent feature required for all rugged tablets. It is vital for smooth functioning. Ideally, a rugged tablet should still be up and running if you drop it in a puddle or a stream.
3. Long Battery Life
Running to charge the battery after every few hours can be counterproductive. The need to power the device in the middle of a process can also be a huge hindrance to the smooth functioning of industrial processes. This is why long battery life is necessary for rugged tablets.
Long battery life will ensure that the tablet provides uninterrupted industrial support for hours on end. It will also ensure the smooth functioning of all processes. Thus, long battery life is a non-negotiable feature for all rugged tablets.
4. Adaptability to Eye
Eye adaptability and readability are synonymous.
It is often difficult to visualize digital screens in extreme bright life. In well-lit industries, it can be difficult for users to view the screens. Glare can also arise in certain cases. Thus a rugged tablet needs to ensure adequate visibility. Adequate visibility is mandatory to ensure that everything is under control.
A rugged tablet must have an antiglare screen. The use of a trans-reflective screen for rugged tablets will ensure smooth functioning and eye adaptability. Other means of reducing glare include the use of backlights. However, the backlights drain the battery of the rugged tablet. The use of a trans-reflective screen will also ensure that there is no compromise on the battery life of the tablet.
5. Longevity
Rugged tablets are expensive as compared to their normal counterparts. Thus they need to offer longevity. Only then will they be a good return on investment. The ability to offer services for years instead of months should be the key when it comes to rugged tablets.
6. Ruggedness
As evident from the name, ruggedness is a desirable property for rugged tablets. It is the most desirable property for an industrial-grade tablet. These tablets are frequently subjected to drops and shocks. Thus being rugged allows these tablets to be up and run despite the hardiness of use. The use of gorilla glass protection offers an added ruggedness to the screen. It ensures that the screen does not break on minor inconveniences.
7. Touchscreen Feature
A touch screen feature is vital for rugged tablets. That is because setting up a lot of pieces of equipment for input can be a hassle. Hence having a touchscreen helps a great deal.
Have you noticed how having a thin film of water on your finger makes the touchscreen nonresponsive? Well, that is the projective capacitive touchscreen. Such a screen does not respond to touch if there is water or gloves in between. This can be a huge setback in industrial setups. Thus, rugged tablets need to have resistive touch screens instead. Resistive screens are responsive despite the presence of a thin film, be it gloves or water.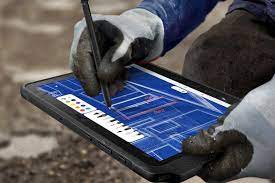 Recommend Rugged Tablet for Use in the Industry
Are you looking for a tablet that can withstand the rugged working conditions of an industry? If you looking for a tablet that is functional despite rigorous industrial use? Are you looking for a device that survives under extreme environmental distress? A rugged tablet is an answer.
Now the question arises where to find rugged tablets? Rugged tablets can be hard to source. This is especially true for novices.
Here is a list of rugged tablets fit for industrial use.
Describe Your Needs In Detail!
We will carefully evaluate your needs and give professional solutions.
Free Inquiry