How To Buy Rugged Windows Tablets In 2022?
Do you want a great rugged tablet with Windows system?
Dozens of new rugged tablets are launched every year, and getting through all these models is increasingly difficult. In addition to the big brands in the sector, many Chinese companies are increasingly competitive and offer performing tablets at super competitive prices.
For this, we have prepared this article. We will help you find the best Windows rugged tablet available on our website, so you can make your choice easier, and you won't regret your purchase.
Obviously, the many tablet models on the market can make the final decision difficult. For this we have prepared this article. We will help you find the best tablet available on the market, so you can make your choice easier, and you won't regret your purchase.
In this guide, we will try to deepen every detail about the rugged tablets, in case you want to replace the old one or take a simple look at what we can offer. Here you will find all the information you need to choose, so keep reading if the topic interests you!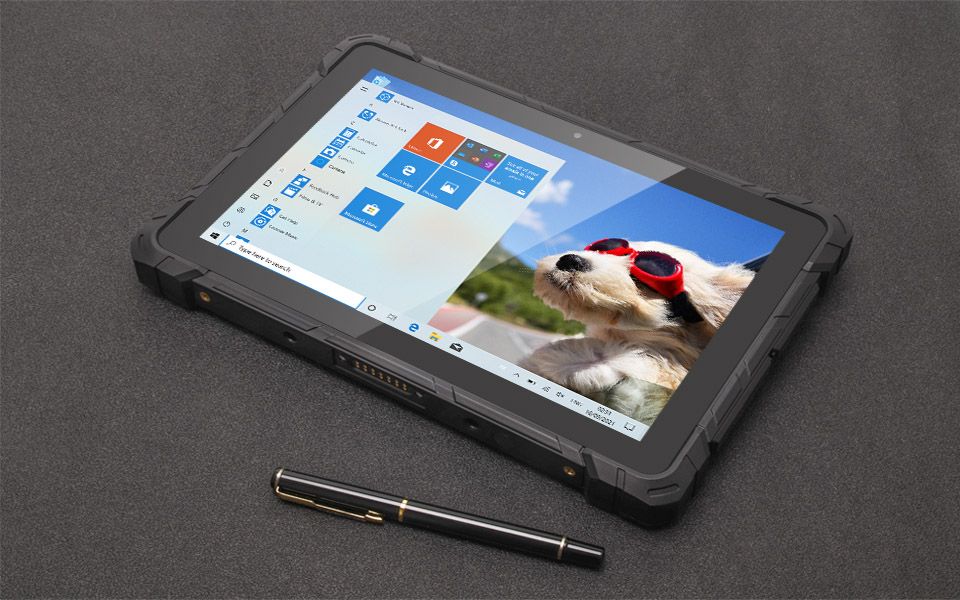 Display: 10.1-inch display | Processor: Intel Gemini lake N4120 | Storage: 128 GB | Memory: 8 GB | Cameras: 5MP rear, 2MP front | Weight: 1150g | Dimensions: 280 x 184 x 26.5 mm | Connections: 1 x USB Type-C, 1 x 3.5 mm headphone jack, 2 x USB 3.0, 1 x Micro HD-MI 2.0, 1 x DC -IN | Battery 7.6V/5000mAh
WinPad W108 is a rugged Windows tablet that can take a severe beating. It's MIL STD 810G & IP67 certified, so it'll withstand virtually whatever you throw at it. You can get it with Windows 10 Pro, powered by Intel Gemini lake N4120 Quad core processors, 8 GB of memory, and TF card storage is up to 512 GB.
There's a 1280*800px 10.1-inch touchscreen display. It's sunlight readable (300nit) that not only can empower the warehouse workforce, forklift, or truck driver but empower outdoor mobile workers. It can work well in multiple scenarios, such as land surveys, construction sites.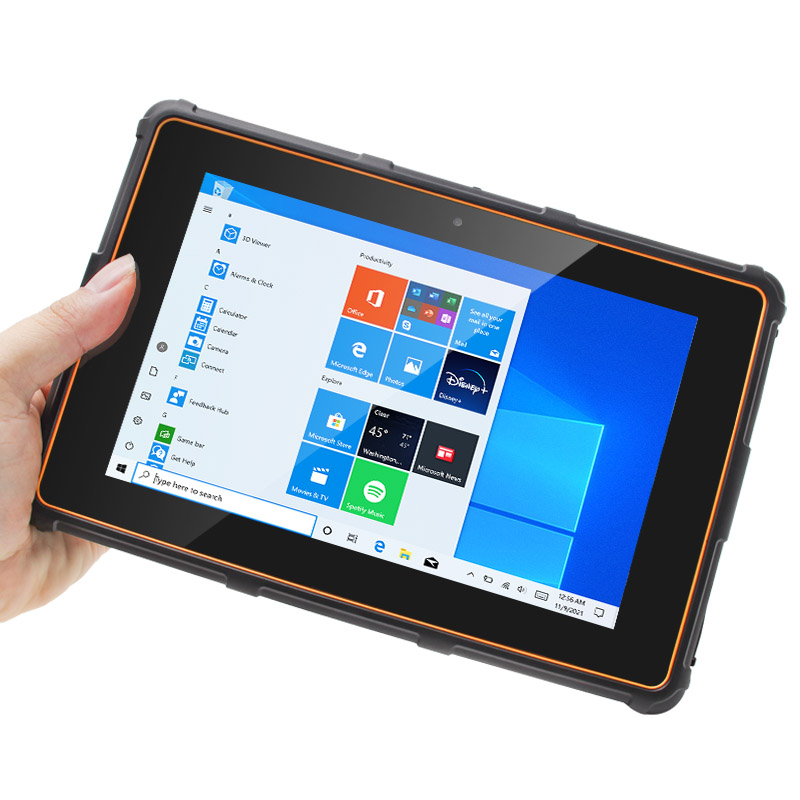 Weight: 700g | Dimensions: 234x 159 x 21.5 mm | OS: Windows 10 Home| Screen size: 8-inch | Resolution: 1280 x 800 | CPU: Intel Cherry Trail Z8350 Quad core, 1.44GHz ~ 1.92GHz | RAM: 4 GB | Storage: 64 GB | Battery: 5500mAh | Rear camera: 5MP | Front camera:2MP
WinPad W87 is a rugged Windows tablet we newly launched this year. It comes with an 8-inch screen and 700 grams. It can easily fit to use in many industrial fields! If you are industrial looking for a real compact device, this is a perfect choice. Even it's not heavy, it comes with a powerful 5500 mAh battery power, meaning it can last longer even when continuously connected.
With an IP67 rating, this rugged device can withstand up to a 1.5-meter drop or being submerged underwater for 30 minutes. Another excellent reason to consider this device is temperature range. It can operate with ease anywhere from -10℃to 55℃, and it can store in a place from -20℃~70℃.
You can trust that the device will work even when subjected to extreme environments. If your business is looking for a mid-size rugged tablet, WinPad W87 promises to deliver all your needs.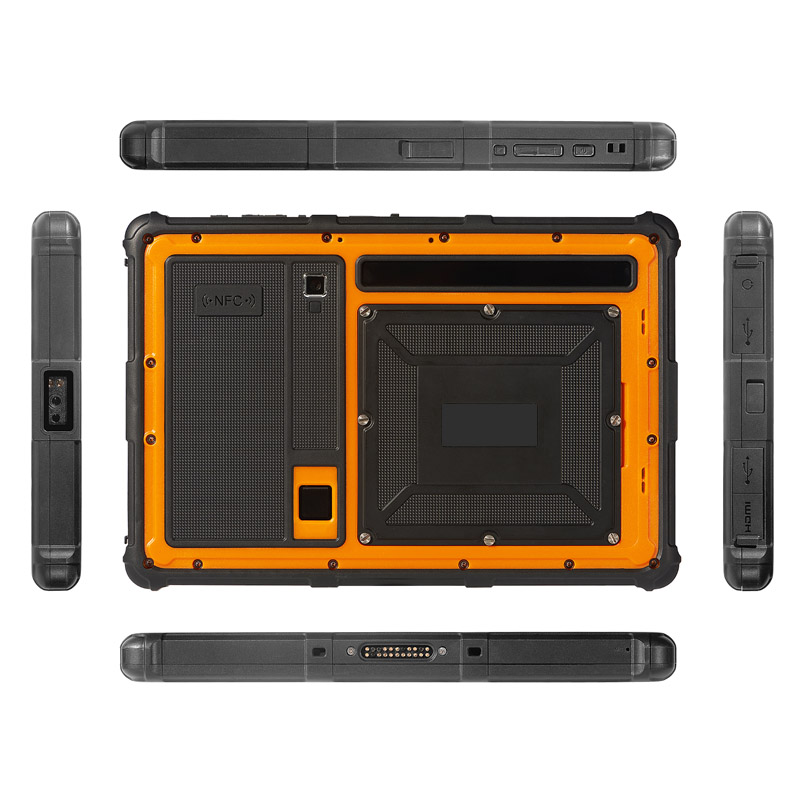 Even if we are talking about Windows rugged tablet, it will go wrong if it's used in an improper way or for too long. Here are some common problems we may encounter:
What to do when the rugged tablet does not turn on?
If the rugged tablet suddenly does not turn on anymore, do not panic: first, check that, when you put it in charge, all the lights in the case turn on. If so, try letting it rest for a few minutes, then hold down the power button for a long time.
Even this is not good, you may have to restart the operating system and restore the initial settings, perhaps checking later if you have downloaded any new application that creates conflict. Remember, before resetting, make sure you have back up your data and documents.
Do rugged tablets need antivirus?
It depends a lot on the operating system version. If you are using a rugged Windows' tablet running on Windows 8 or 8.1, you run the same dangers as you have for your PC, so it is preferable to install a valid one.
How to deal with a rugged tablet that doesn't charge?
The first step is to verify that the charging port is not faulty or perhaps occupied by dust. If everything is fine here. Check that the charger is working – if it has lights that go on rugged Windows tablet when plugged in, that's not it.
The problem can then be more important and that is to do with a worn battery, if the tablet is old, or defective. In this case, contact the manufacturer for the right assistance.
How does the Internet connection work for rugged Windows tablet?
To answer this question, we invite you first to examine the indications on the product, which will tell you whether it is an LTE model or Wi-Fi only. Basically, in the first case there will be one or more slots to insert a SIM or micro SIM card (the one you use for your mobile phone), of which you will take advantage of the data connection.
You can then use 3G or 4G, depending on the mode supported by the rugged Windows tablet. Wi-Fi instead allows you to connect the device to the home network wirelessly, but also to that of rooms equipped with this type of connection.
In some cases, it is also possible to use the tethering mode, that is to use a smartphone with connection as an access point, to be connected to the tablet via BT.
Rugged Windows tablets are here to change the way we work forever. Over time, these devices will continue improving, giving businesses the chance to truly achieve digital transformation.
If you are interested in other rugged tablets, you can click here to view more. You are always welcome to contact us.
Describe Your Needs In Detail!
We will carefully evaluate your needs and give professional solutions.
Free Inquiry