The Pros and Cons of Kids Learning Tablet
There is no argumentation about the rapid rise of interest amongst the young generation, especially kids, towards kids learning tablet. The technology eventually takes over the globe in its clutches. Now, consequently, you either can choose to fight over its rapid use and addiction or stay silent. However, in both cases, you cannot do anything potential to stop its usage. The tablets have thereby taken the fabric of the young generation into its fold. It also poses a significant impact on a younger audience.
On the other hand, with its rising benefits, our education system similarly depends on this device. Nowadays, schools are complete with each device per kid. Moreover, the blackboard is ultimately replaced by intelligent boards galore. With this, modern kids are exploring the world of tablets in their earlier days of life. For more information about tablets click here.
Pros And Cons of Kids Learning Tablet
Despite the number of arguments about the benefits and negative impacts of kids learning tablets, the final answer is very much complex. We are witnessing both the pros and cons of using the tablet amongst children. Hence, understanding both for you is pertinent before making a final decision for your child/kid. Therefore, let us discuss the pros and cons of using tablets amongst kids one by one: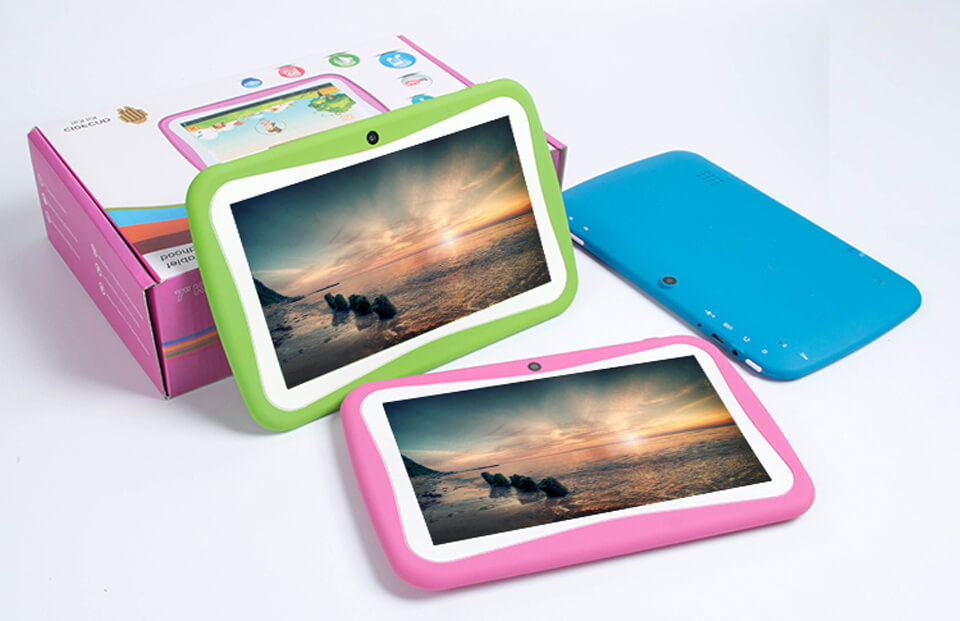 Pros of Tablets Amongst Children
With the rise of modern technology, access to various resources and gadgets is now the most straightforward most task. Thanks to the modern invention that made this possible for us. By this, every kind of information is available to us with just a click of our fingertips 24/7. This reality of sudden access is also true for our children using tablets and mobile devices. Rapid access appears to be incredibly beneficial for the kids in accessing helpful information in a matter of seconds. Some of the pros of using the kids learning tablet are:
Quick & Rapid Learning:
If you are a parent, and you are finding multiple ways to expedite the learning process in your child, you need to have a kids learning tablet for your kid. By using the tablet, you can help the children learn faster by installing practical applications. These applications provide the young with a more engaging and interactive solution and interfaces and eventually build their interest. By using applications, a child can develop many skills in various disciplines such as reading, mathematics, science, music, etc. It, you can do this by using games and learning through video lectures. For effective pre-school learning, there are multiple applications like Toca Band, Cocomelon, ABC KIDTV, etc.
Creating Bond and Entertainment
The kids learning tablet can also become the source of bonding between you and your children. It could be a source that unites you both while living alone, way apart from your family. The tablet can also be a source to play games with your kid. It makes you both spend time and create a bond with each other. You can also use the device to watch his favourite shows, cartoon, movies, or read books for them. It is not just it, but there is a lot more than a tablet offers. It allows you to blend in with your child and helps transform and contribute to their development. Also, it lets you monitor what they are seeing and doing.
Using Futuristic Technology
We can deny the fact that the future of the world following depends significantly upon the technological world. A survey recorded that about 96% o the American population worldwide are using mobile phones. Furthermore, schools and learning institutions across the globe are opting for and implementing digital and IoT learning mechanisms. The e-learning initiatives are accepted and appreciated across the globe. It, at this moment, allows your child to get early access to digital technology and perks at a young age, eventually making him a tech-savvy guy for the futuristic world. It helps the younger generation to navigate quickly and start embracing advanced technology shortly.
Cons of Using Tablets in Children
We know that the first, or roughly, initial eight years in a child's life are crucial for its learning phase. They are the most critical years for mental development. Amidst this, the time excessive time spent on screen leaves an ever-lasting effect. Here the role of kids learning tablets is essential to muse about. Along with some remarkable advantages of using tablets, there consequently are some drawbacks too. Most of them are:
Lack Of Social Life:
With much time spent interacting with the digital world and modern gadgets, children thus are losing interest in developing social circles. They ultimately are dragging them into a situation that affects their communication skills. Spending more time on tablets eventually develops a scenario where children start facing a lack of behavioural skills. Considerable research suggests some communication-related issues found amongst 18 months old kids, while others suggest that children face excessive screen technology behavioural issues.
Lack of Proper Sleep and Extra-Curricular Activities:
Proper sleep and sports are two factors essential for a sound mind and sound body. The essential needs of children are often affected when they spend too much time in screening activities. The needs include proper sleep and physical activities. With the wide in technology, the trend of outdoor games is evading rapidly. Therefore, we rarely see children going, especially for physical games, and hardly participating in sporting events. To get proper sleep and enough physical exercise, the kids of eight years old need to have a sound mind and strong, healthy growth.
Lack of Real-World Experience
There is no doubt about the fact that kids learning tablet provides fantastic sensory fun and exciting experiences. It appears and goes directly against what a real-life experience is. It is because the reality of the real-time world is altogether different from what is visible on screens. Children need to touch, smell, and sense the world they are physically living in for a real-world life. Providing much time on screens robs them of the natural world, essential for their cognitive development.
For more information about the more positive and negative effects of kids learning tablets on children, feel free to visit us here.
Describe Your Needs In Detail!
We will carefully evaluate your needs and give professional solutions.
Free Inquiry